"monthly Munches, Quartly events, and eventually a yearly Steampunk ball."
There's a new Facebook group for Twin Cities Steampunks. Login and search for TC Steampunk and request to join, looks like it's a closed group to start. The goal is to potentially start:
Minnesota Society of Costumers
, and we are having several upcoming Steampunk specific events.
Our first is a Steampunk 101 class Oct. 23, from 1-5 at the Textile Center in Minneapolis. It will have a short fashion show and discuss Steampunk archetypes, as well as ideas for costuming. More info can be found
here
.
On Nov. 5th we will be having the "Steampunk Sale of the Centuries" which is a Steampunk SPECIFIC Vending Event, in support of our December Ball, and Teslacon in WI. We will have clothing, weapons, accessories and leather vendors, etc. It is $5.00 admission to what is esentially a dealer's room at a Con. More info can be found
here
.
Lastly, we are having a Steampunk Christmas Carol/Fezziwig's Party at the Outing Lodge in Stillwater, MN on Dec. 3rd from 6-10pm. It is in an old 1850s estate and we will be having a costume contest, food, dancing, photos, Mr. and Mrs. Fezziwig, and sleigh rides if there is enough snow. More info can be found
here
and tickets can be purchased
here
.
We also have a blog devoted to MNSOC, which currently has had a series of Thrift to Fashion blog posts, mainly in relation to Steampunk. You can find the blog
here
and the FB group
here
.
We have a special rate this month on membership for MNSOC and that info is also on the Blog, including the benefits at area and online retailers.
We hope to see you at the events!
Thanks!
Laura
MNSOC
I am the President of the
Dear Steampunk Companions of Minnesota!
Is there any regular meeting of Minnesota Steampunks? If not, I wish to
coordinate one. It is good weather to be togged up in lots of layers of clothes. I will suggest a promenade around Lake Harriet in South Minneapolis as our inaugural event.
Other locations that might be fun for meetings:
TheDepot, downtown, if we could get the big room (that I remember as the waiting room back when we had trains in Minneapolis), and could perhaps take tea together at the Renaissance Restaurant there.
The James J. Hill house in St. Paul, which is a beautiful period house open for tours. If you haven't toured it, you are missing a lot of fun. Railway Baron, James J. Hill built this house for his family overlooking the railways he built, and is now under the care of the Minnesota Historical Society.

Loring Park and the Walker's sculpture garden.
Summit Ave. in St. Paul near the Cathedral. Stately Homes!
The American Swedish Institute, another fantastic old mansion.


Please feel free to recommend other locations of a suitably Victorian ambience!

I will throw out a date for the Lake Harriet Promenade (and picnic): Sunday, October 23rd from two o'clock p.m. to five.

I hope this is far enough out to be possible for many of you. I suggest
we meet at the Lake Harriet Bandshell concession stand (next to the
bandshell itself). Meet at 2 p.m. and then start the promenade around
the lake as soon thereafter as we are all assembled.

Please RSVP here or on the Minnesota thread on Brass Goggles if you are coming. Walking sticks recommended. Picnic baskets may be left in cars for the tea after the promenade. If it is running that day, we could even ride on the old trolley that operates between Lake Harriet and Lake Calhoun.

The parking lot by the bandshell is, I believe, now only for people with
permits to use it. There is parking on the parkway and on nearby
streets in the neighborhood of West 42nd Street which runs up a steep
hill from the concession stand, more or less. Google map it.

Dr. Nautilus
I'm new to this community, but not new to Steampunk (and definitely not new to MN, lived here all my life).
Anyway, a little about me. I got into steampunk a few years ago after seeing the costumes pop up around conventions, as I like the idea of a futuristic world from the past and like Victorian silhouettes, I was pretty well enamored by it.
Anyway, I'm also an artist, actress and run a burlesque troupe. Currently, I'm working on a web comic based off a costume design (strange where we draw inspiration from). And my troupe is doing our annual steampunk show.
I hope it's alright I post a promotional poster for it here
We will be having a audience participation costume contest, and if you come in costume it's a dollar off admission. Don't miss it, Friday night!
Hi there!
Caprice:

busy
Saturday, March 19th, 9:30pm
21+ $5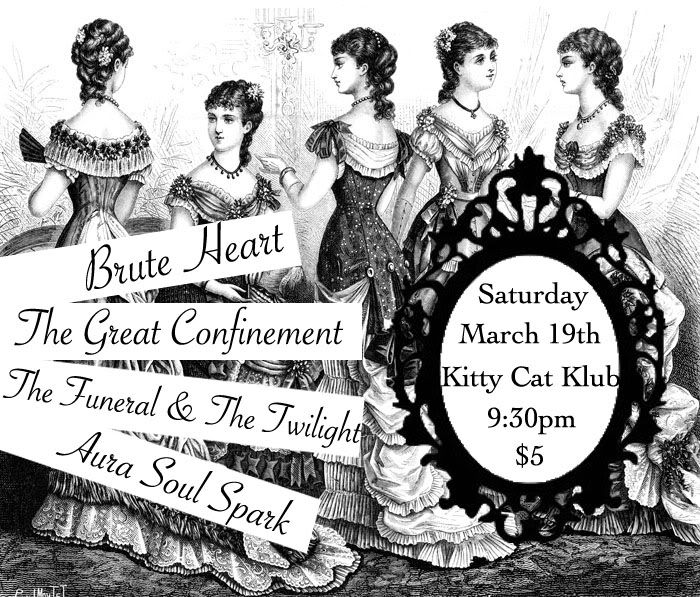 Brute Heart -
http://www.myspace.com/bruteheart
The Great Confinement -
http://www.myspace.com/thegreatconfinement
The Funeral and The Twilight -
http://www.myspace.com/thefuneralandthetwilight
Aura Soul Spark -
http://www.myspace.com/aurasoulspark
at the Kitty Cat Klub...
This show looks interesting - perhaps you might also think so?
Tickets up for pre-sale:
http://www.tempotickets.com/hellskitchen
Bad September's CD Release Party. Doors open at 6:30pm. Music begins at 7:00pm.
Retro-Futurist band Bad September celebrates the release of their first EP with an evening of songs and stories about the Communist Revolution in Britain! This six-member steampunk rock ensemble creates music of love and loss in a world of steam, brass, and mahogany.
Our self-titled EP includes a case, one copy of the Empyreal Times (Communist Britain's best underground gentleman's newspaper), a sampling of underground bank notes, and one 5-song CD with the following tracks:
Robert's Rules of Order
Victoria in Absentia
Minister Rand Tells Us That Art Is in Service to the State
Takin' Notes
Empire of Steam

Bad September features the musical talents of Charles Borchert (piano), Elizabeth Borchert (cello/vocals), Michael Borchert (guitar), Marc Gutman (bass/vocals), John Heimbuch (vocals) and Keith Prusak (guitar/drum).
THE BRITISH EP RELEASE SHOW
Tuesday November 30 at 7:00pm (6:30 doors)
At the Bryant-Lake Bowl Theatre
810 West Lake Street
Minneapolis, MN 55408-2846
Tickets: $6 in advance / $8 day of show

Purchase tickets online
http://www.badseptember.com
X-Posted to
twin_cities
AVE COMRADES!
So for those of you who are going to CON this weekend in Minnesota, I would just like to remind you that there will be a Steampunk fashion show at 1pm, Friday in the Garden Court.
Featured will be Heather Luca of Scoundrelle's Keep with a preview of her fall line and I hear Samantha Rei of Blasphemina's Closet has
some love little ensembles as well. In addition to the two designers there will be a portion of the show for others to parade their own fabulous steampunk outfits, I hope some of you will show off your finery. Yours Truly will be one of the models for SK in my new corset (I'm more excited about the corset I think).
As a reminder Scoundrelle has alot of items for sale in her etsy incase you need any last minute Accessories to steam yourself up!
www.etsy.com/shop/scoundrelle
Can't wait to see you all there! <3
Oh hello there my fellow Steam-Junkies.