The workshops run from 10am to 3:30pm. The show is from 7 - 9, but vending will start at 6pm, in case performers wanna shop. Workshops and show are at the same location, though we will be moving from downstairs (by the aerobics room) to upstairs (for the show). It's at the Paul Wellstone Neighborhood House 179 Robie St. St Paul.
I'm the only hair accessory vendor, so go me XD There'll also be an after party that everyone is invited to at the Chatter Box in St. Paul.
So if you're into belly-dancing, into fancy items or just like the wiggle of hips, you can't miss it! Hope to see you there!
It's been a while since I posted but I thought I'd drop you a line and let you know that Heather Luca of Scoundrelle's Keep posted new items in her Etsy store like Items from her Spring line and Corsets Sizes 20-34. As well as Clip-On Pockets, Bottles and Goggles for both Gents and Ladies!
Come take a look:
www.etsy.com/shop/scoundrelle
Looking for something custom? Try her website:
scoundrelleskeep.com
Hello Folks!
It looks like it will be a gross rainy muggy day on Saturday, so we'll be meeting here:


If you respond to this thread it won't be answered.
Next Thursday is the first leather class. There are only two spots left. Email Ryan for more info: crosslandts@hotmail.com
Bad September is performing on the Bedlam's Mainstage at 10:30pm on this Friday, May 14th as part of their late-night performance series.
Details here
. We will perform after Live Action Set's production of
The Happy Show
(at Bedlam) and just down the street from Walking Shadow's production of
The Transdimensional Couriers Union
(at the Cedar Riverside People's Center). Happiness! Time travel! Steampunk! The cover is just $5, with $1 off if you attend either Happy Show or TDCU that night. We hope you will join us there.
p.s. Bad September was on the cover of this month's issue of
Minnesota Playlist
. Hip-hip-hurrah!
Dear fellow sophisticates,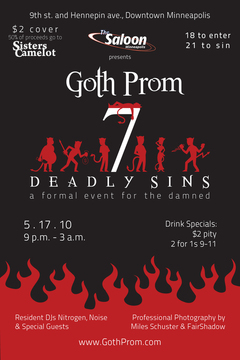 Just 10 days away!
This Friday, April 30th the Altered Esthetics Gallery in NE Minneapolis will be hosting Iron & Candy, their 6th Anniversary Show. This one-night only event includes an art gallery, with live and silent auction items, bad caricature drawing, steampunk-themed games, refreshments and music featuring
Bad September
(at 11pm). Don your jhodpurs and jaunt on down to the Q'arma Building to show them how it's done.
Iron & Candy Altered Esthetics' 6th Anniversary Show
1224 Quincy St NE, Minneapolis MN 55413
Friday April 30, 2010
from 6pm-midnight
Event details here
We're going to rock this place!
Salutations!